I am available to give clinics, presentations, lectures, and workshops in person and online. Below are descriptions of some of my specialties. Please contact me at sarah.riskind@gmail.com or sriskind@eureka.edu for more information about scheduling, topics, and rates.
Choral Clinics: Repertoire
I visit your choir rehearsal or invite your ensemble to Eureka College, in order to hear your repertoire in progress. In providing a new perspective, I aim to offer additional artistic ideas and empower the conductor to implement manageable and meaningful changes!
Composition Workshops
I have taught general composition to middle school, high school, and college students, and I have taught vocal/choral composition lessons with all of these age groups as well. My specialty is teaching text-setting, particularly focusing on syllabic stress and the natural rhythms of the text. I use handouts, worksheets, and textual analysis.
Early Music Workshops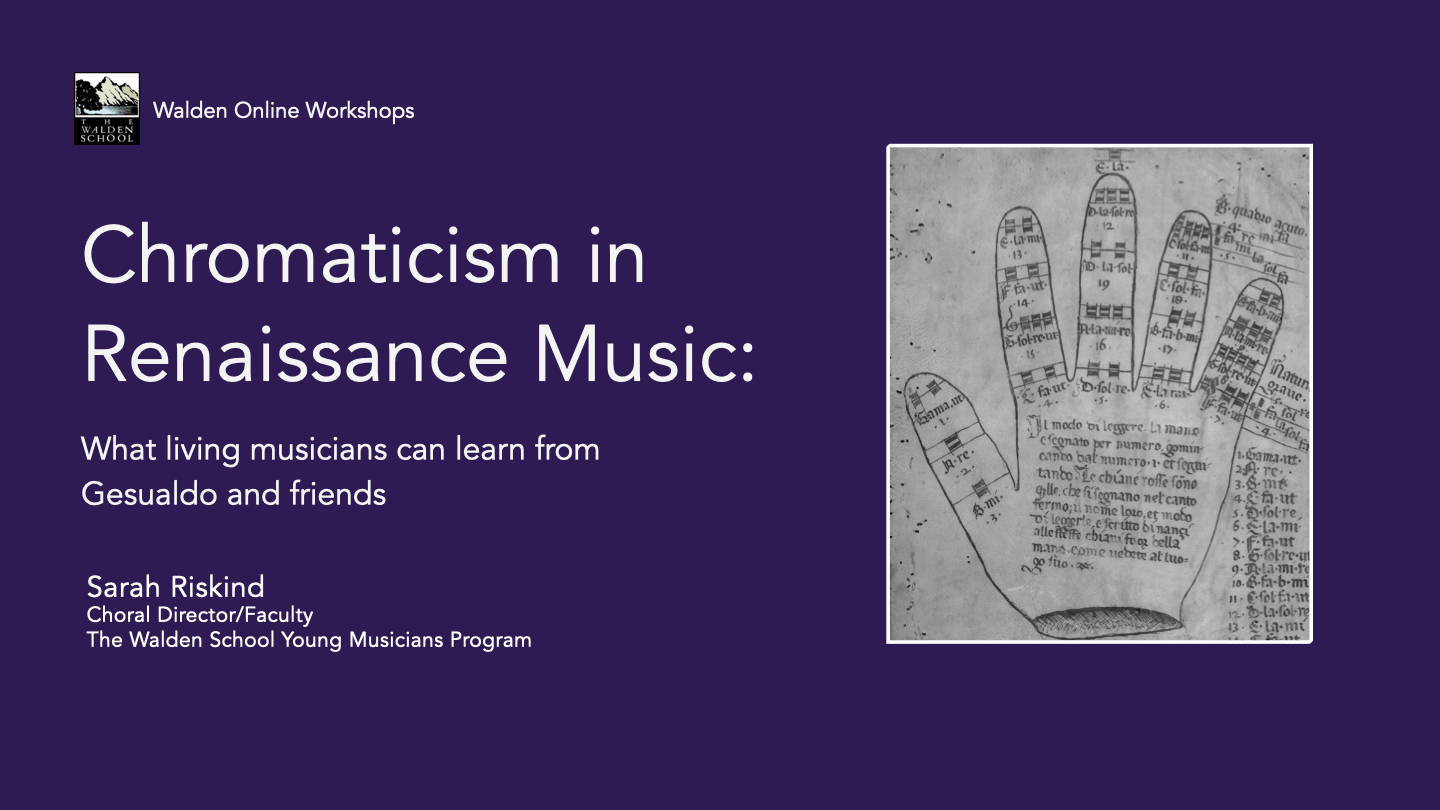 In addition to academic lectures, I often teach adolescents and adults about early music from both musicological and practical angles. I have taught about chromaticism in Renaissance music, convent music, mensural notation, and other topics with interactive elements from singing to composing to improvising to performing skits!
Choral Clinics: Improvisation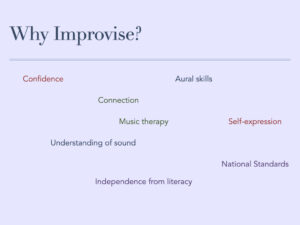 One of my research specialties is improvisation pedagogy in a choral context. My improvisation activities gradually introduce novice improvisers to the idea of vulnerability and creativity, while deepening fluency in musicianship skills and even creating music for performances.
Improvisation Workshops
I teach an Improvisation class at Eureka College and employ these activities at workshops with a mixture of instrumentalists and vocalists of all ages. Rather than focusing on a single genre, I introduce skills that apply to many genres and dip into specific genres that interest the students.
Musicianship Workshops
Drawing from the Walden School Musicianship Course, I have a large toolbox of Solfège, Curwen-Glover hand sign, and rhythm syllable activities to share! I employ them to teach repertoire in many ways as well as encouraging creativity with improvisation and composition.
Choral Clinics: Jewish Music
Drawing from my dissertation work on choral arrangements of Sephardic Jewish music (which reflects interaction with other Mediterranean cultures after the Sephardic Jews were expelled from Spain and Portugal) and my own work as a composer of Jewish music, I can teach singers about the context and background of pieces in progress or introduce new repertoire.
Composer Visits
I love working with choirs and other ensembles on my music! I would be happy to visit and offer feedback and/or talk to an ensemble before they begin working on one of my pieces.
Commissions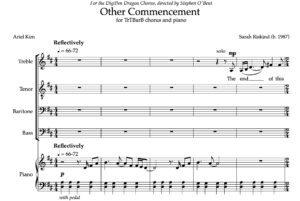 I accept commissions to compose for choirs, vocalists, and instrumentalists, and I can work with your budget to offer a rate that is feasible for your organization. Some of my specialties include Jewish music, improvisatory sections (with optional notated alternative), fiddle parts influenced by Irish and other folk music, string obbligato parts, unusual voicings such as TrTBarB, more extensive instrumental accompaniments, early music connections, and certain languages (English, Hebrew, Spanish, Ladino, and Latin). I would be happy to visit online or in person in order to introduce the piece and/or give suggestions later in the process!