Previously based in Seattle, conductor and composer Sarah Riskind is the Director of Choral Activities at Eureka College in central Illinois. Through her work as choral director and faculty at The Walden School, an inspiring summer program in New Hampshire for creative musicians, she has become an advocate for developing musicianship and improvisational skills in choirs of all ages and abilities.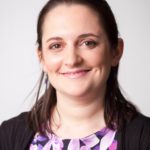 Among her original works are Jewish and Judeo-Christian music, secular pieces with improvisatory elements, and frequent settings with string obbligato parts. Recent premieres include the tenor/bass arrangement of Oseh Shalom by the Appalachian State Glee Club in April 2019, the Robert Frost setting Looking for a Sunset Bird in Winter by the Pacifica Choirs Interludes Ensemble in March 2019, and several arrangements of Judeo-Spanish melodies by the Seattle Jewish Chorale and Sarah's own ensemble Las Kantaderas del Noroeste in November/December 2018. She has also written for the Quince Contemporary Vocal Ensemble, International Contemporary Ensemble, and Ensemble Dal Niente as part of the Walden School Faculty Commissioning Project and is currently involved with the Creative Commissions project through the University of Cincinnati.
Dr. Riskind enjoys accompanying voices as a violinist/fiddler and improvisor, and she has most recently sung soprano in the Mägi Ensemble, a professional Baltic women's choir in Seattle. She holds a DMA in Choral Conducting from University of Washington, an MM in Choral Conducting from University of Wisconsin at Madison, and a BA in Music from Williams College.