Below are Sarah Riskind's choral compositions for mixed voices, including both accompanied (often piano and string obbligato) and unaccompanied. Some have been arranged for multiple voicings already, but other arrangements can be completed by request.
The price for pieces sold here allows you to make up to 60 copies. Additional purchases are needed for larger ensembles. If questions, email sarah.riskind@gmail.com.
Temporarily unavailable; publication in progress. Contact me at sarah.riskind@gmail.com to receive updates!
This prayerful Hanukkah canon is in the Ahavah Rabbah mode, which includes the same pitches from harmonic minor with the fifth as the tonic. Included in the 2022 edition are an assortment of new formats and arrangements: the canon in two different keys with chord symbols, Solfège teaching materials, and arrangements for SSA, TBB, and SAB that incorporate an optional improvisation section.
Purchase Oseh Shalom at J. W. Pepper
A Jewish prayer for peace in a tango style, accessible for school, church, and synagogue choirs. SATB, piano, and violin.
Purchase Hariyu at J. W. Pepper
An exuberant Hebrew setting of Psalm 100 with homophony in changing meters. SATB and piano.
Purchase Sim Shalom at J. W. Pepper
A solemn Hebrew prayer with a choral refrain and solo verses. Accessible piece for SATB, soprano or tenor soloist, and piano or organ.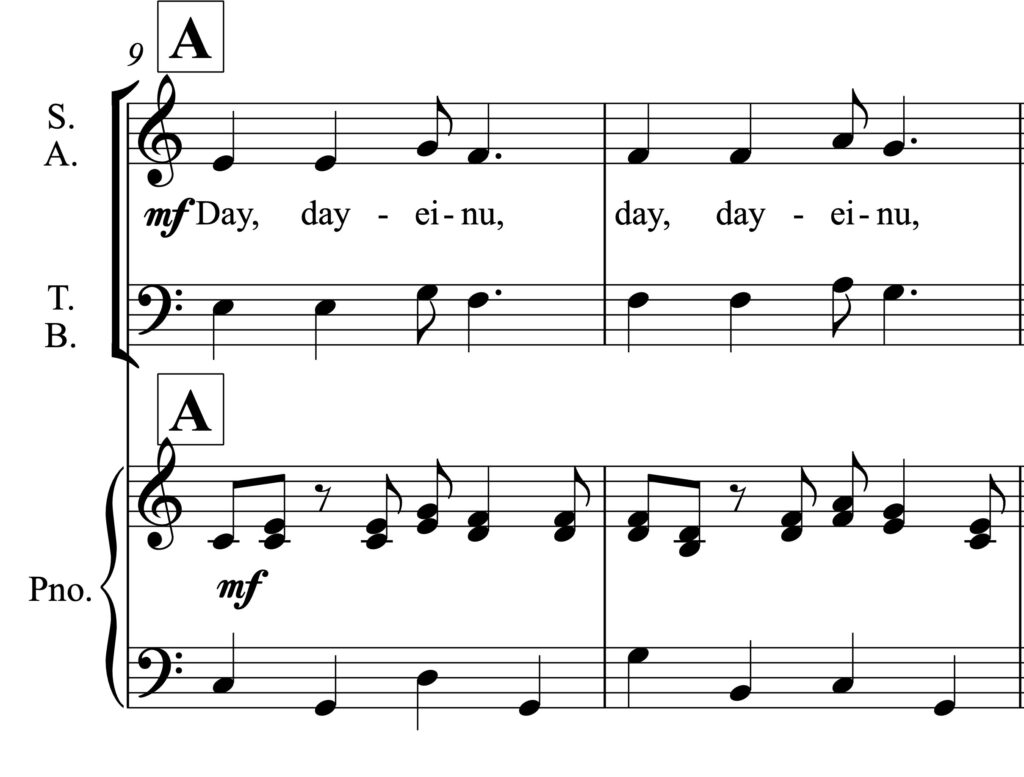 Simple arrangement of one of the most popular songs sung at Passover seders. "Dayeinu" can be translated as "it would have been enough." SATB and piano.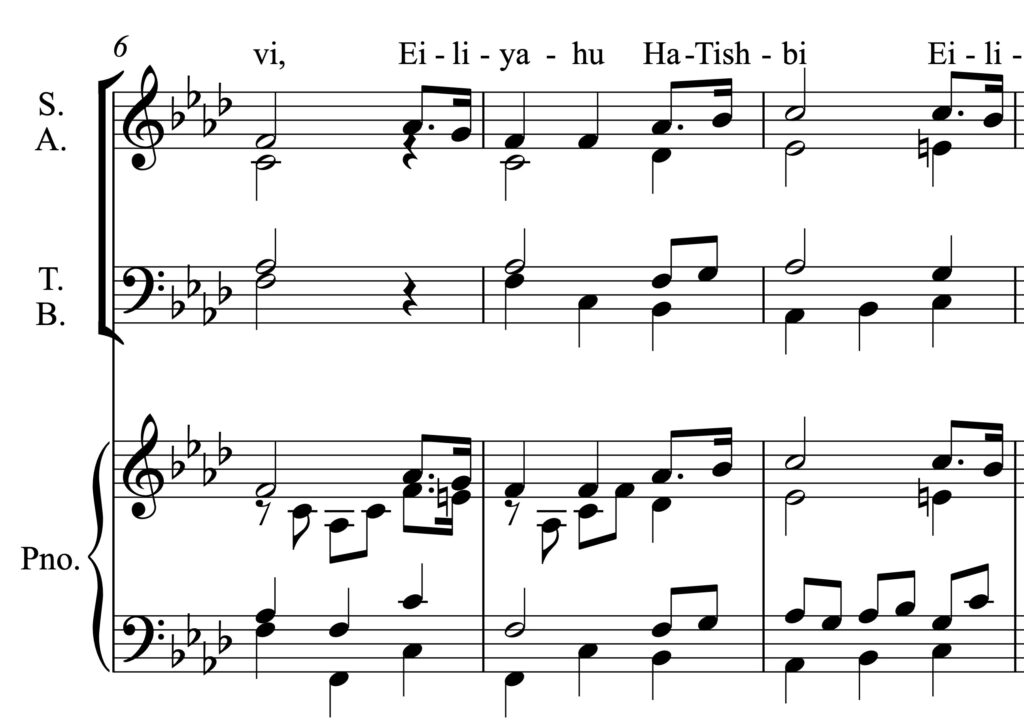 Simple arrangement of the haunting Passover melody "Eiliyahu Hanavi" about the prophet Elijah, for SATB and piano.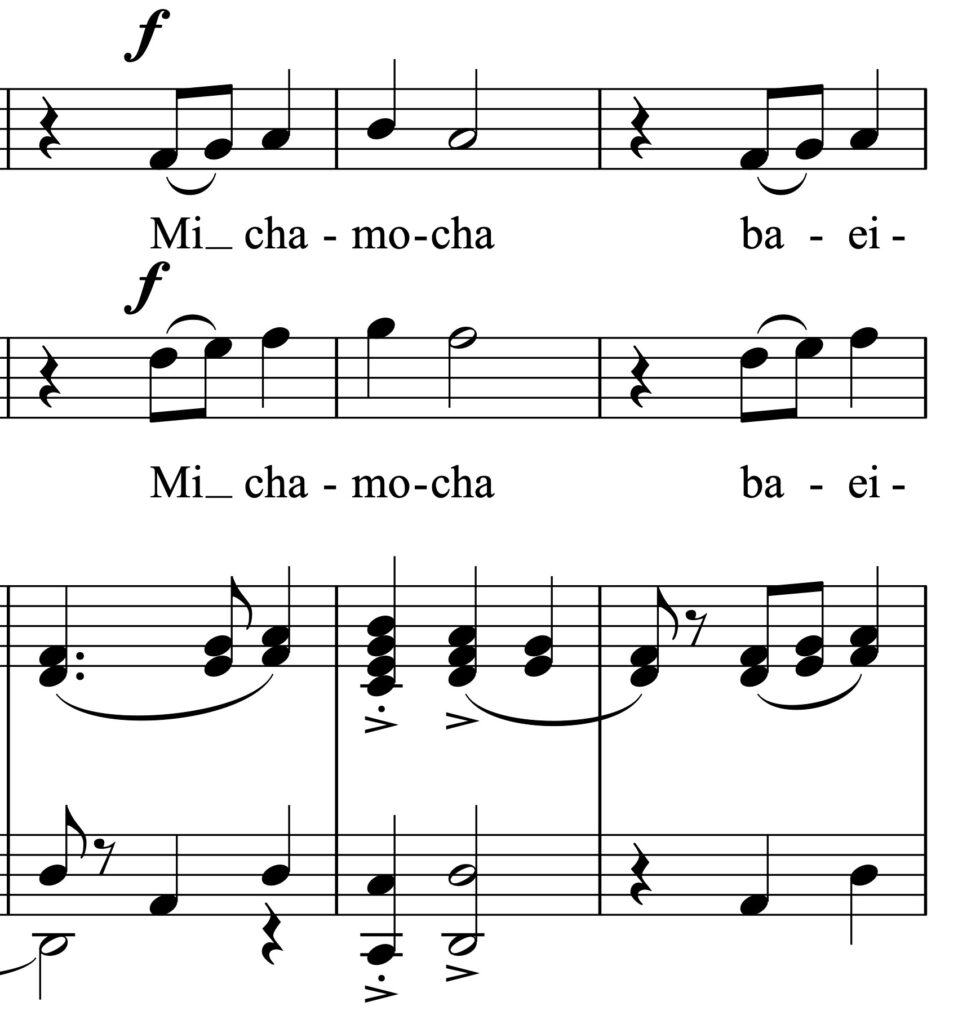 "Who is like You, O God?" A bright, upbeat homophonic setting of moderate difficulty.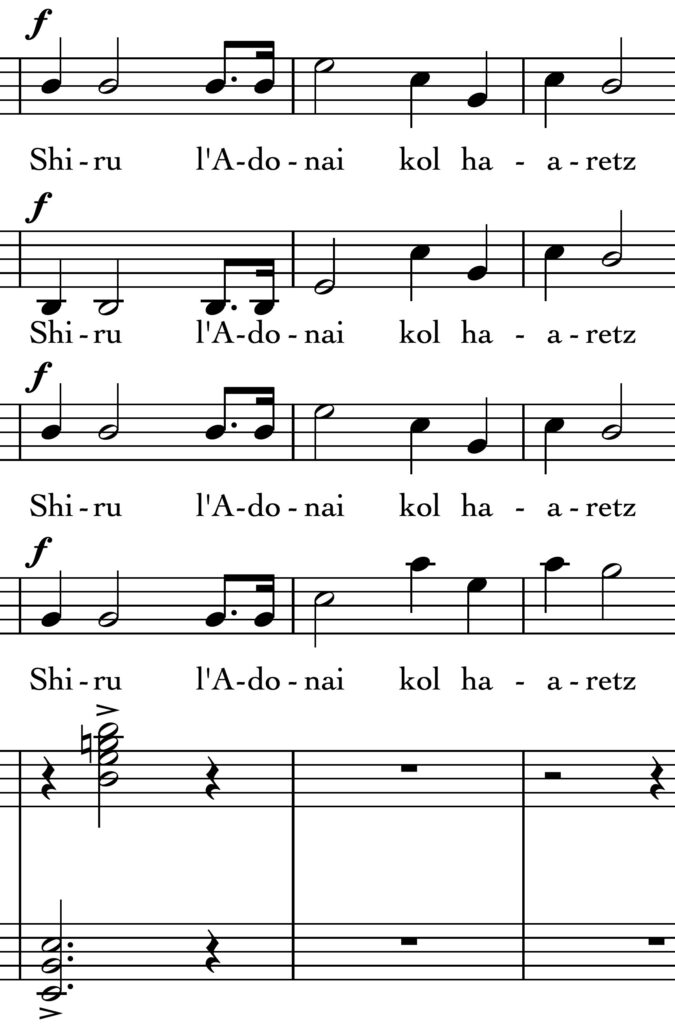 A triumphant and melodic Hebrew setting of Psalm 96:1, "Sing to the Lord a new song." SATB and piano, moderate difficulty.

A Hebrew call to prayer in three-part canon. SSATB a cappella, but adaptable to any voicing.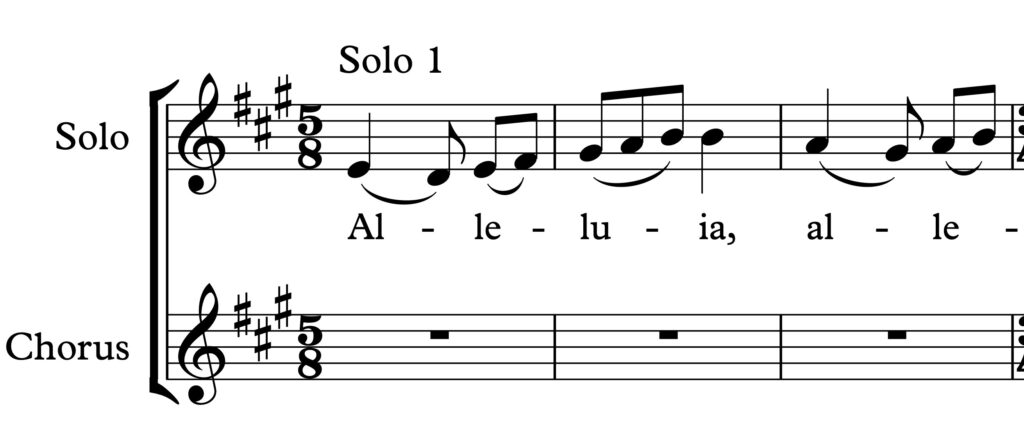 A call-and-response anthem in Mixolydian mode with mixed meters; the mixed choir is often in unison. For a cappella choir, soloist(s), and percussion ad lib.

This piece for Treble/Tenor/Baritone/Bass chorus and piano was commissioned by Stephen O'Bent and the DigiPen Institute of Technology Dragon Chorus. In the text of Other Commencement, DigiPen 2021 graduate Ariel Kim reflects on the countless hardships that graduates have endured during the Covid-19 pandemic. Alongside this sincere acknowledgement of struggles, though, is a hopeful message about recognizing their hard- won accomplishments; their strength will carry them into the next chapters of their lives.

Purchase Psalm of the Sky at Swirly Music
A setting of Rabbi Rachel Barenblat's modern reimagination of Psalm 23, commissioned in 2019 for TBB voices as part of CCM's Creative Commissions Project, sponsored by the Harmony Fund. This version is for SAB voices with optional tenor part, piano, and violin.
Contact me at sarah.riskind@gmail.com for more information .
An energetic Klezmer-inspired piece for SATB, piano, and optional violin.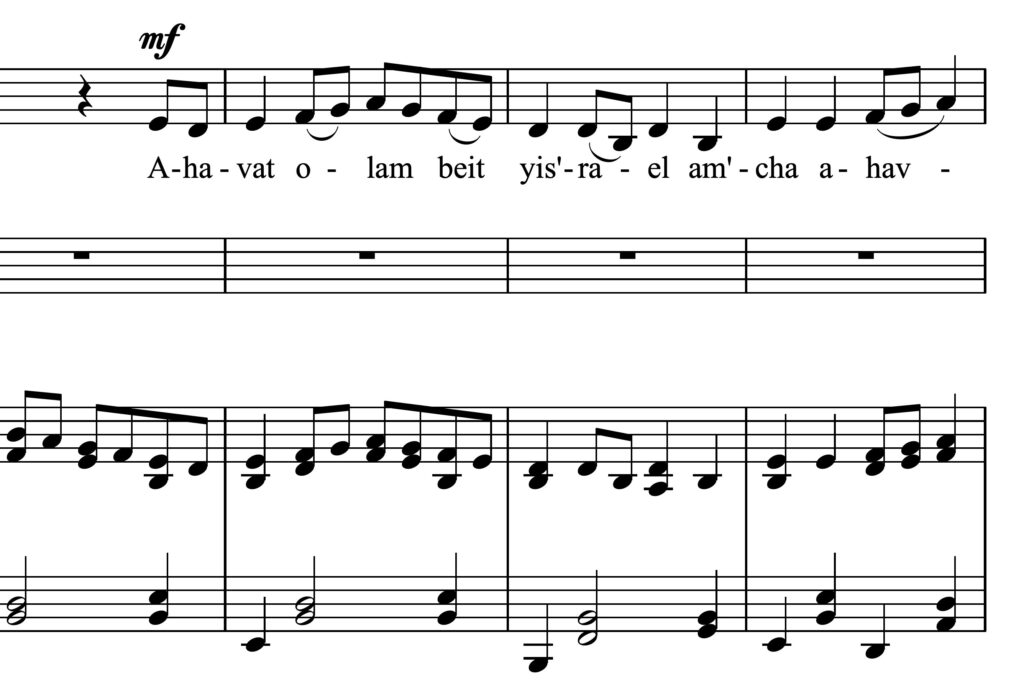 A brief homophonic setting of a common prayer of gratitude for the Torah. SATB with piano or organ.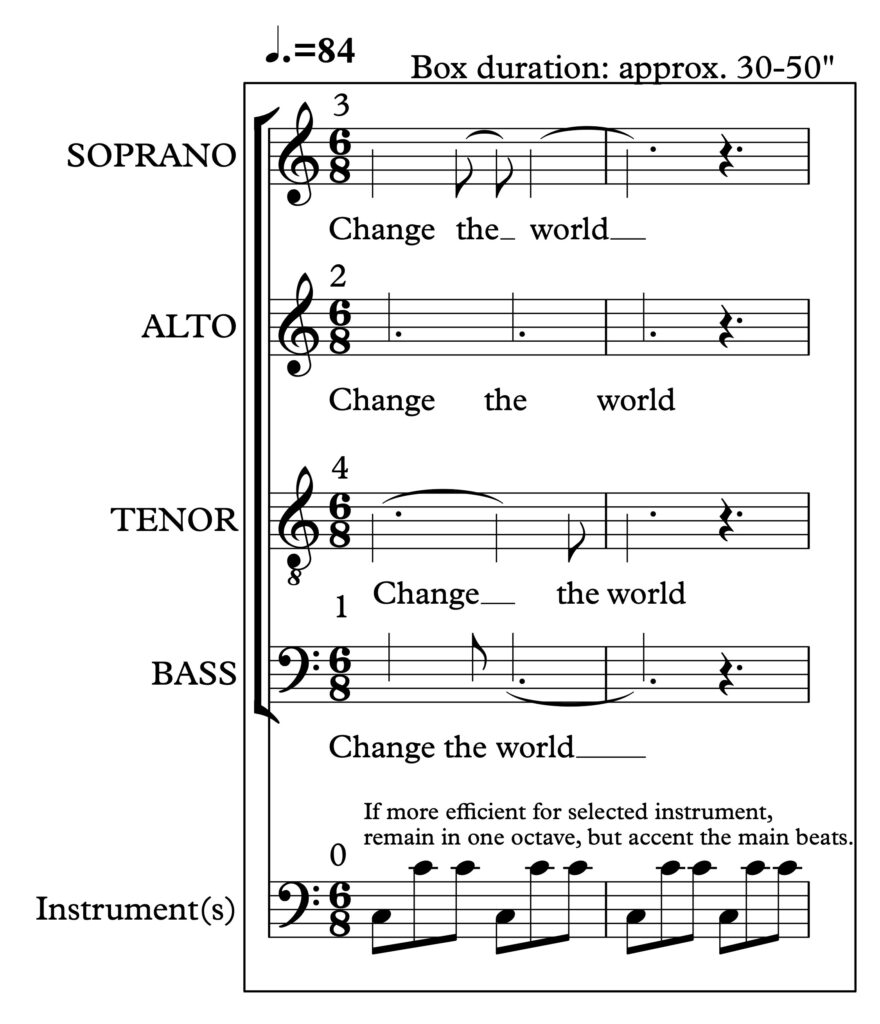 A guided improvisation in which section leaders choose pitches to fit notated rhythms. SATB and pitched instrument(s).

Arrangement of a Bulgarian Sephardic wedding song in 2+2+2+3. SATB with pitched and unpitched instruments, suggestions included in the performance notes, moderate to moderately advanced. Has detailed performance notes, with links to source recordings and a Judeo-Spanish pronunciation guide.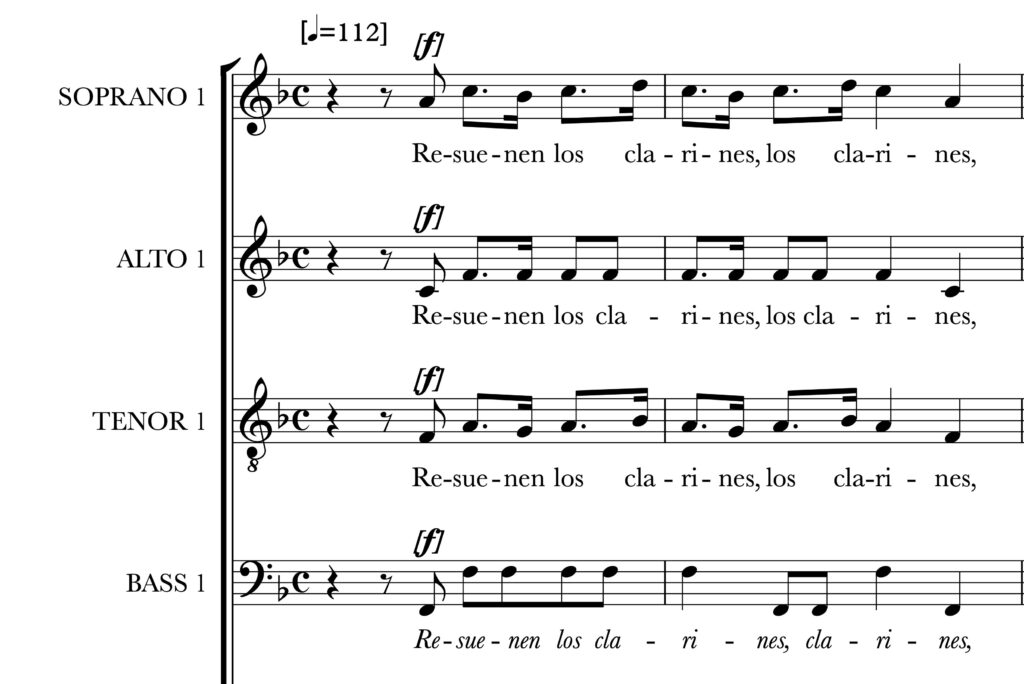 Scholarly performing edition of a sacred Spanish motet by the Mexican Baroque composer Manuel Zumaya. It is for SATB+SATB choirs and organ, but it also works well with instrumental doublings, or with instruments covering some of the parts. Verses can be performed by a small group.

Warm, light setting of Psalm 8 for SAB and piano.

Arrangement of an upbeat Moroccan Sephardic copla about celebrating Purim, a Jewish holiday that usually falls in March. SATB a cappella, moderate difficulty. Has detailed performance notes, with links to source recordings and a Judeo-Spanish pronunciation guide.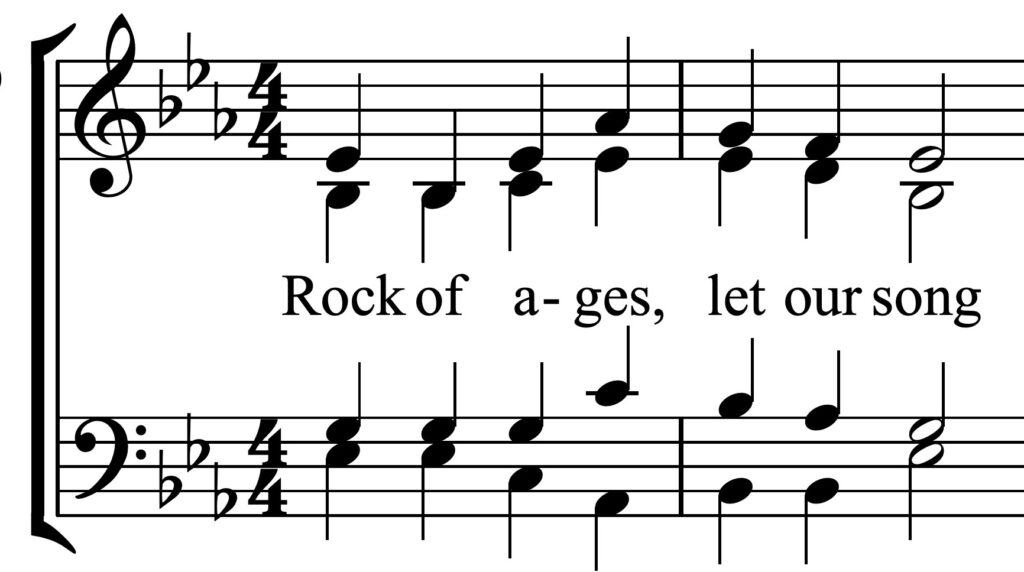 Homophonic setting of one English verse of the Hanukkah song Rock of Ages (Maoz Tsur).

Full Score:
Vocal Scores:
Parts:
A 21-minute four-movement work showcasing excerpts from L. Frank Baum's whimsical and imaginative Oz books. Movements I and IV include significant choral parts, while II and III are for soloists only. Written for SATB chorus and soloists (with speaking roles) and string quartet.

This piece was inspired by those who struggle to find welcome in new places. The optimistic textual changes transform a command into a personal commitment. For advanced a cappella SATB choir with some divisi and a brief soprano solo. Premiered by The Esoterics in Seattle, directed by Eric Banks.

Hebrew setting of Psalm 101, "I will lift up my eyes to the mountains." SATB with piano, lyrical and mostly diatonic.

A lilting melody with primarily homophonic accompaniment, suitable for many church choirs. SATB, piano, and optional violin.

Lyrical Dorian/minor piece for baritone, mixed choir, and piano that works well before or during worship.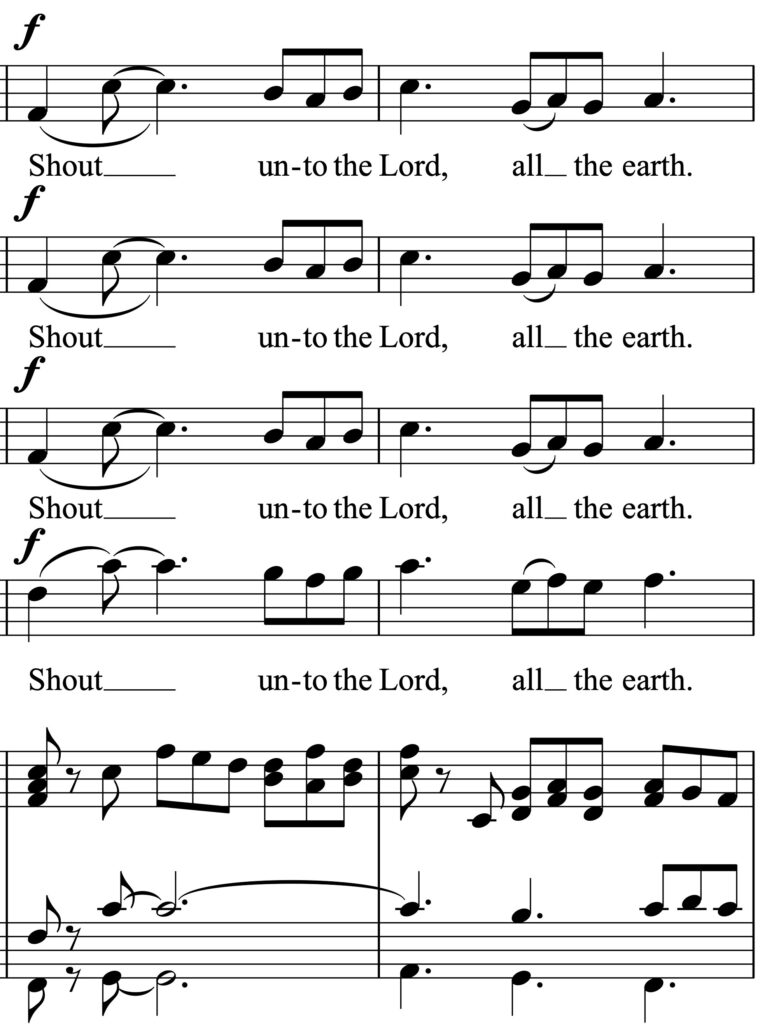 Exuberant Lydian setting of Psalm 100 for SATB and organ with some syncopation.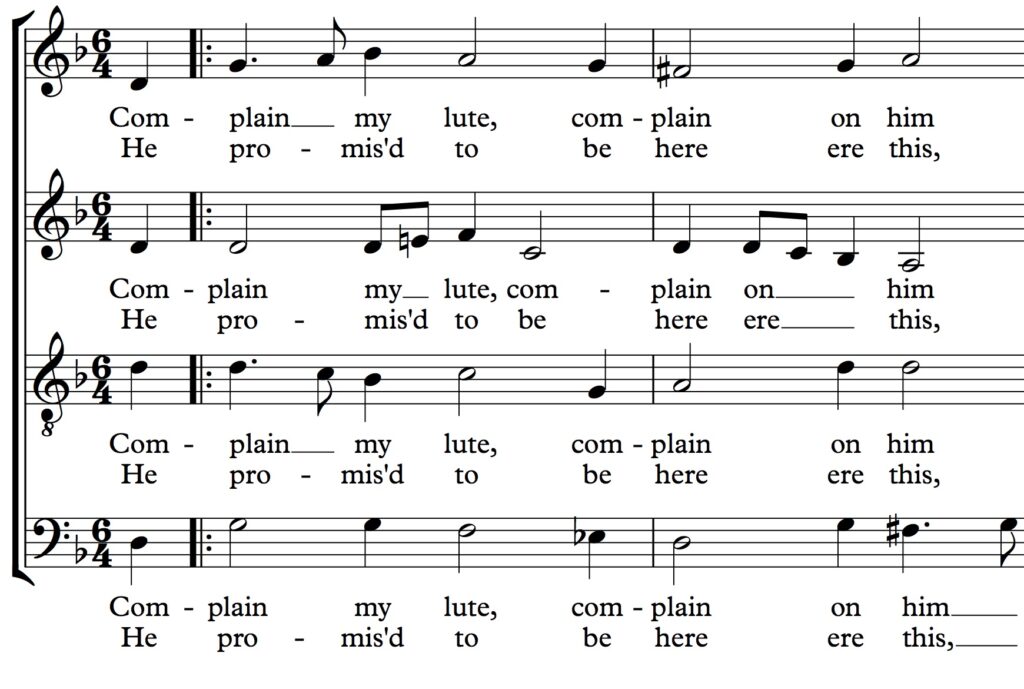 Original unaccompanied Renaissance-style harmonizations of the tune "Heart's Ease" from Playford's 1651 Dancing Master, which is mentioned in Shakespeare's Romeo and Juliet. The first is fairly straightforward, while the second is more chromatic. Both are included in three keys to suit individual ensembles.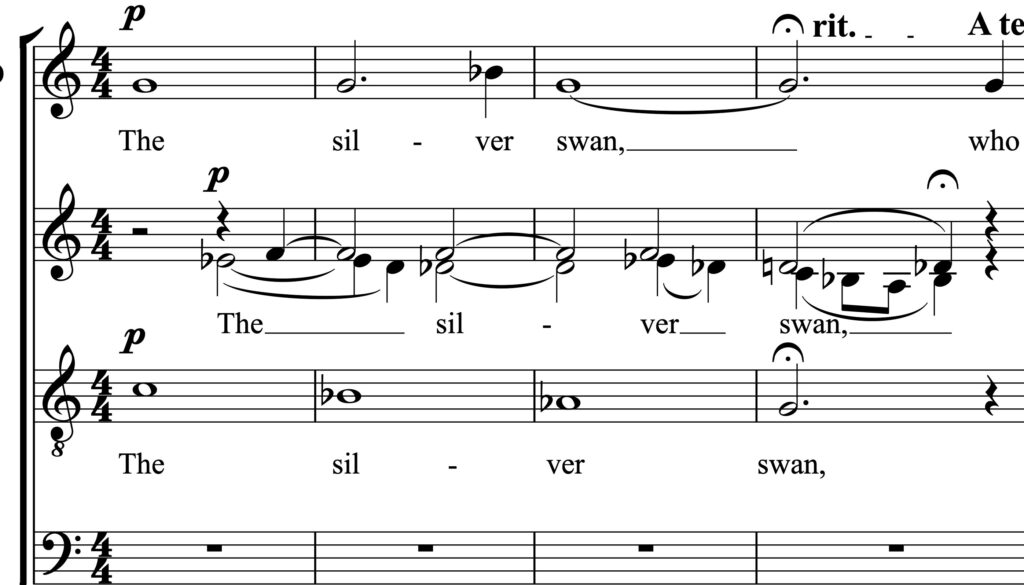 Original chromatic setting that pairs well with the Gibbons. SATB a cappella.